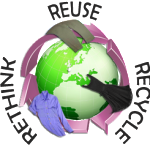 Recycled Clothing Facts
by Lexa W. Lee, Demand Media
Thrift shops are a great resource for donating or buying used clothing.
Recycling unwanted clothing reduces landfill waste as well as the amount of resources needed to produce new clothing. It also lessens the waste produced by the manufacturing process — clothing scraps end up in the landfill, too. Used clothing can be donated, sold or disassembled for the fabric.
#1. Discarded Clothing
Americans discard an estimated 65-68 pounds of clothing a year, while buying only 10 pounds of recycled clothes. In 2006, 2.5 billion pounds of fabric were kept from the landfills by used-clothing purchases (see References 4). Yet about 99 percent of what is thrown away can be recycled. Clothing and household textiles, consisting of fabrics such as cotton, polyester, nylon and rayon, make up almost 5 percent of the total garbage in landfills. – Charter Recycling: Recycling Facts
---
Personally, I Hate Waste.
I'm not a hoarder but I do try to pass on anything I still can find a good value in.   We take almost anything in donations, as long as it's Clean.   We can't sell most damaged clothing but we do pass them along to those who can, whenever possible.  Some Highly Desirable items that we can still resell are Men's Work Clothes – the kind you can and will, get dirty in.  Jeans, dickies, dockers etc, especially in darker colors, are still sold with moderate defects like small holes, hem frayed and minor stains – for a moderate price.
We also try to find people to use our winter weather items also.  This year, nearly 1,000 cold weather items were sent to New Mexico to be given out at a homeless shelter.   A donor, who wishes to remain anonymous, paid a small sum and the actual Shipping Costs related.  That made us All feel warm & fuzzy – pun intended
Did you know that Thrift stores no longer receive the volume of clothing donations they used to? Why do you think that is so?