LADIES
start saving your wine bottles & have your girls over for a night of crafts! I put together this weekly blog "Go Green With.." to encourage recycling !  I want to start off with crafty ways to recycle wine bottles because well… who doesn't love wine? 
♥
I have 6 total projects on this topic, but you will have to check back each week to see what they are & steps on how to do them. 
Drinking wine will never be the same after keeping up with us this next 6 weeks.You will find yourself enjoying a glass of wine while brainstorming your next crafty idea for the bottle when your done.
---
---
GO-GREEN WITH WINE – PROJECT #2
2.) CANDLES & WINE!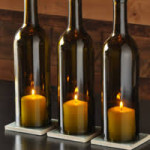 Candles and wine add the perfect romantic touch so why not combine the two ?!
What You will Need :
1.) wine bottle
2.) short candle stand
3.) candles
4.) bottle cutter
*** Don't have a bottle cutter ? Below is a link for a video that will walk you through an easy way to cut your wine bottles using house hold items!
How To Easily Cut The Bottom Off A Wine Bottle | DIY Cozy Home
---
---
♥GO-GREEN!♥
The idea of recycling is to reuse material already at hand. Doing this reduces the progression of built up material on our planet. The goal is to have a cleaner less cluttered earth and enjoy more of Its natural beauty !
Every year there is an increase of people jumping on bored with recycling. To encourage others and give yourself a friendly reminder you can introduce fun ways to recycle.
So start saving your wine bottles and have some friends and family over for a night of crafts!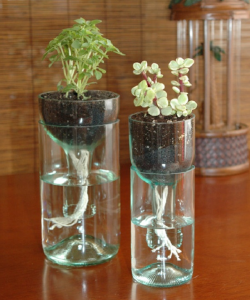 Caution: Keep in mind that you will be working with glass so it is important to use all safety precautions !

As always we would love to hear from you! Leave us a comment on your experience doing project #1 and/or share with us other creative ways you have recycled your wine bottles.
♥ Check back 4.7.15 for project #3 ♥
---
 "GO GREEN WITH WINE"
– BY: Erika Strassburg