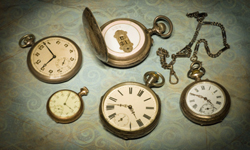 5 Fun Reasons to Shop at a Thrift Store –  #2 RARE FINDS!
For people who favor shopping malls and department stores, a Thrift Store may be a little scary.  After all, the clothing items are used and there's no telling who wore them or what they were doing when they did so.  The fact is the clothes in thrift stores are all inspected to make sure they're in good enough shape to go on the rack, so you don't need to worry about threadbare or tattered items.  Thrift stores also offer a bounty of second hand furniture, toys and games, old records and appliances.
As if that wasn't exciting enough, we've got 4 more reasons to try out your local thrift store. (Deerfield Thrift;)
by

Emilie Sennebogen

 from http://money.howstuffworks.com/personal-finance/budgeting/5-reasons-to-shop-at-thrift-store.htm#page=2
If you're a shopper that gets a little thrill from scoring that rare find, then you're missing out if you don't check out the wares at your local thrift store.  That's the only place you're going to find that gently-used fondue set from 1976.   Or that 1950s tailor-made suit that fits you like a glove.  
Are you a record collector?  A thrift store could be where you could find that original Beatles LP that the owner didn't even realize they were donating.   Just remember the old maxim: One man's trash is another man's treasure!
---
Did you know….  We have Hundreds of Vinyls (records) In Stock and we regularly Add to it? 
Lately, your 1st choice is on Wednesdays but if you haven't seen them lately, they're All New 2 You!
BLOG SPECIAL ONLY – BOGO buy 1, get 1 FREE on our Awesome Collection of albums – Coupon Code: music rocks
1 week Only – 1 per person per day (offer ends 4/23/2015)