Thrift Store Fun: 5 Reasons to Shop at a Thrift Store
For people who favor shopping malls and department stores, a Thrift Store may be a little scary.  After all, the clothing items are used and there's no telling who wore them or what they were doing when they did so.  The fact is the clothes in thrift stores are all inspected to make sure they're in good enough shape to go on the rack, so you don't need to worry about threadbare or tattered items.  Thrift stores also offer a bounty of second hand furniture, toys and games, old records and appliances.
As if that wasn't exciting enough, we've got five more reasons to try out your local thrift store.
#1  Money Savings
If you're looking for a good reason to shop at a Thrift Store, look no further than your pocket book.  Everyone knows you can find great deals on clothing, toys, games, small appliances and furniture.  Many thrift stores even offer further reduced savings on certain days of the week.  So that vintage suit that's in amazing shape and priced at $8 might only cost your $4 on a Wednesday.  Even without further discounts, a thrift store is a great place to outfit that first apartment or dorm room on the cheap.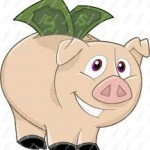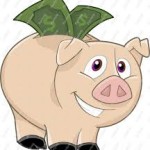 Check Back next Friday for 4 more reasons to try out your local thrift store!
{Deerfield Thrift :}